Are you pregnant with twins or more?
Discovering you are expecting more than one baby can be a time of mixed emotions. Families may experience feelings of shock, excitement, and anxiety. We at Twinformation can help with these emotions and prepare you and your family for your journey with multiples.
Would you like highly experienced, specialist health professionals and mothers of twins to guide, educate and support you through your journey?
If the answer is yes then Twinformation will expertly support you and your partner.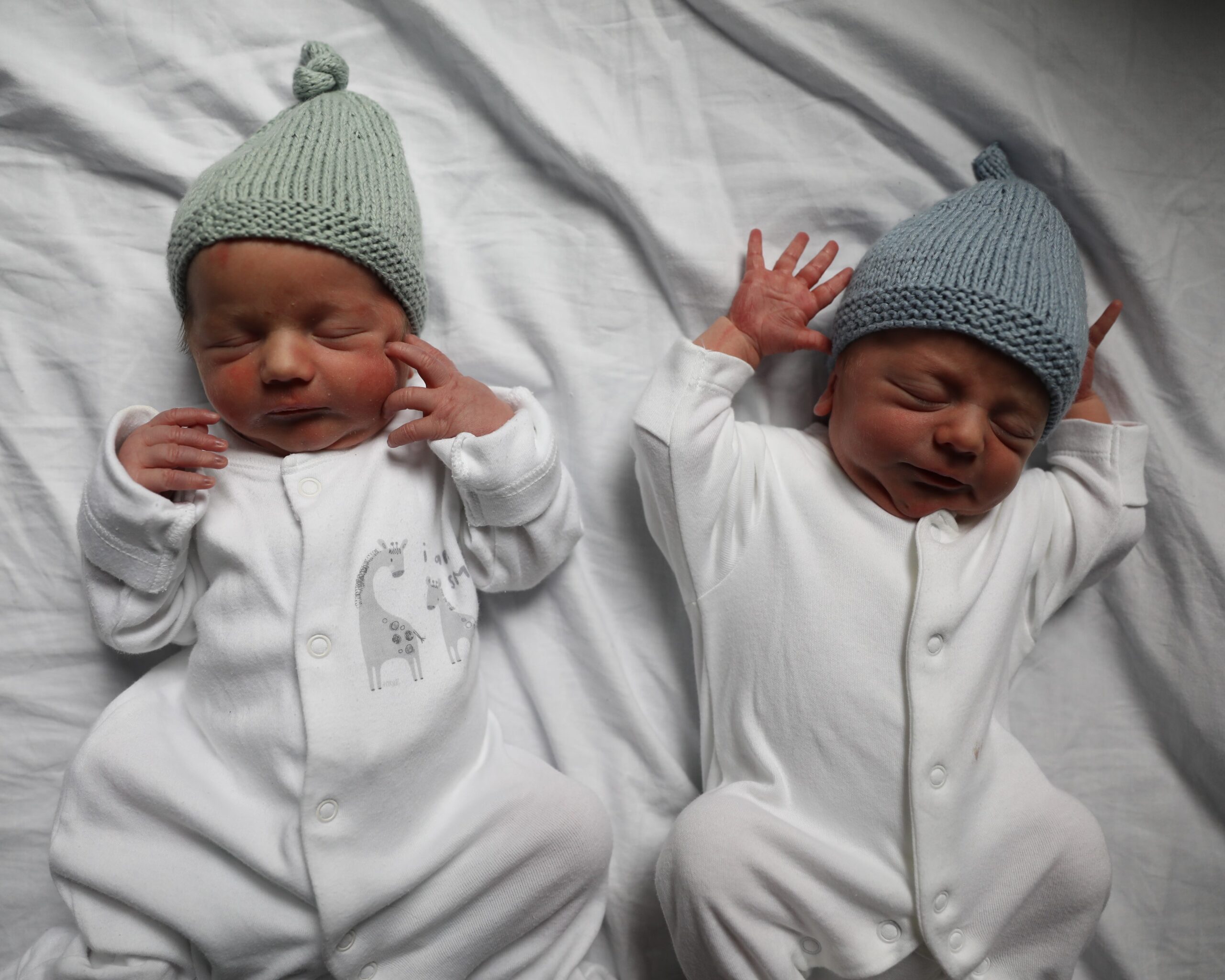 Twinformation offers a specialist, evidence based multiple birth programme to empower, prepare you and your family for twins, triplets or more.
A full antenatal, postnatal programme over five weeks, total of 10-12 hours of preparation and support from a specialist multiple birth  consultant midwife and a health visitor specialising in sleep support for the under 5s.
The Twinformation programme will provide you and your birthing partner with accurate, up to date,evidence-based information so you will be informed of your choices and empowered to understand your journey in pregnancy, birth and beyond with multiples in a relaxed and friendly atmosphere.
Twinformation will bring together multiple families, building a supportive community and make new friends.
During the current pandemic the Twinformation programme will take place remotely via zoom. This allows you to participate safely in the comfort of your home, with no travel requirements; we've welcomed local families and people from all around the United Kingdom on to the programme.
We run Twinformation in small groups to ensure we can give individual attention to each person and continued support after the programme ends.
Joanna Fitzsimons
RGN, RM BSc (1st Class Honors) D.A. Hyp- Diploma of Advanced Hypnotherapy, 3 Step Rewind Birth Trauma Practitioner
Hello, my name is Joanna. I am a proud mother of identical twin boys named Hamish and Noah and a specialist multiple birth consultant midwife for the Twins Trust (formally known as TAMBA); the leading multiple birth charity in the UK.
My own personal experience and journey with my twins, alongside my work as a midwife has fuelled my passion to empower, educate and support families expecting multiples and beyond.
Hamish and Noah were born in 2003 and, since then, I have supported hundreds of families and health professionals to ensure these families are informed, prepared, and supported in their journey with multiples.
I have worked with the National Institute for Health and Care Excellence (NICE) setting the Quality Standards for Multiple Pregnancy (2013) more recently, I was a member of the committee that reviewed and updatred the NICE twin and triplet Guidelines.
I have written The Twins Trust; Pregnancy Countdown to ensure families are supported and enable to make an informed choice about their pregnancy and care they should receive in the UK.
I am the lead midwife for multiples at Brighton and Sussex University NHS Trust and have provided antenatal education and support for multiple families and health professionals since 2011.
I am also a clinical hypnotherapist and hypnobirthing practitioner and founded  The Wise Hippo Sussex Hypnobirthing programme in 2014.
Those families booked onto Twinformation will be entitled to a ten percent discount on the cost of The Wise Hippos Sussex Hypnobirthing 4-week programme. You can find out more about the hypnobirthing course here.
Harriet Gibbs
BSc (Honors) Specialist Community Public Health Nursing
Hello, my name is Harriet. I am Registered Nurse and also have a Bachelor of Science (Honors) in Specialist Community Public Health Nursing, which qualifies me to work as a health visitor.  I volunteer for the Twins Trust on their Community Forum supporting parents of multiples. I have also worked as a freelance Medical Adviser and Expert Panellist for the BabyCentre.
I am also a mum to Harrison born in 2016 and Flora and Everly identical twin girls  born 2019. Since becoming a mum, I have developed a passion surrounding sleep problems, furthering my knowledge in the subject, and completing a sleep training course, leading to the creation of ParentsBook.
Twinformation Antenatal programme
This programme is for everyone who's expecting twins, triplets or more: pregnant women and their birth partners, couples expecting multiple babies with the help of a surrogate and single parents. At the end of your twinformation programme you will also be provided with a comprehensive digital resource booklet.
Session One
Understanding the importance of chronicity and zygosity. Are they identical or non-identical?
Your body and babies and what to expect in your pregnancy. Understanding what best practice maternity care looks like, so you be informed of your choices and be empowered.
Prematurity – What if my babies want to meet us early?
Preparing emotionally, physically, and practically.
Session Two
Your Labour and birth options, your choices for birth.
Choices for pain relief
Preparing for your labour and your babies' births
Birth partners support and role
Birth preferences
Session Three
What equipment do I need for multiples?
What to bring into the hospital?
Nurturing yourselves after your birth
Postnatal choices
Feeding your babies and the early days
All aspects to consider once you have you babies, nurturing yourself and your children's individuality
Session Four
The role of the health visitor
New-borns and sleep
Nurturing yourself and your babies
Confidence in the health of your babies
Session Five
Social gathering with any further questions you would like to ask Joanna.  Mother/partner of twins will join us (Subject to availability)
Preparing for Twins and more
A woman and her family's journey expecting multiples is very different from a woman expecting one baby, both physically, practically, emotionally and the care that is provided.
Therefore, it is essential that families have access to evidence based, holistic, antenatal and postnatal classes specific for multiples, to ensure they are aware of their choices to make informed decisions and are prepared for pregnancy, birth and beyond.
The Twinformation programme will provide you and your partner with the all the preparation and support you need to feel informed, confident of your choices to have a positive pregnancy, birth and beyond.

Twinformation Programme is run by Joanna, mother of twins, qualified, practising specialist multiple birth midwife, antenatal educator and hypnobirthing practitioner and Harriet, mother of twins, Health Visitor and sleep consultant.
We are very happy to discuss any questions and provide you with support you may have prior to the programme and we will support you throughout your pregnancy.
Each session is 2 hours this time will enable you to absorb new information without being overwhelmed with all the valuable information at one time, there is plenty of opportunity to interact with others and ask questions.
All families will receive a comprehensive resource digital package to accompany the programme, with invaluable information and to refresh your memory of all the great information provided on the programme to support and prepare you.
How much does the Twinformation programme cost?
The total cost of the five week programme is £250. This includes support throughout your pregnancy and a comprehensive digital resource booklet.
When is the best time to start the twinformation programme?
We recommend that you attend the Twinformation programme from 20 weeks to 35 weeks. It is suitable for first time parents and experienced parents who are expecting their first set of multiples. Please book early to avoid disappointment as spaces get full up quickly .
We look forward to helping you prepare and support you for your multiples.